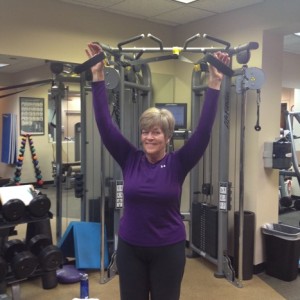 Sharon has been working with Rita for three seasons. Originally, her training began due to mobility issues with her shoulder, as well as personal motivation to improve her golf swing. As a result of regular foam rolling, mobility, and strengthening exercises, Sharon has reached a level where she is relatively pain free, and able to comfortably play a round of golf.
In Sharon's words….
My favorite piece of fitness equipment in the gym is the TRX. It provides me proper support and balance; enabling me to complete flexibility exercises injury-free. It is great for posture and my golf game. Even lunges don't hurt!
My Fitness goals in 2015 are:
Increasing strength, balance and flexibility to help gain power in my golf swing.
Building stamina for walking my "hilly" golf course at home.
Continuing to keep shoulder pain at a minimum.
And of course, making fitness a priority in my life!
Rita assists me by listening to the needs of my body and adapting my workout to challenge me while simultaneously accommodating my individual needs. I feel so much better after a session with her!