Welcome November. This month brings, cooler temperatures, changing leaves, Thanksgiving, and cranberries.  Yes…I said cranberries.
Did you know it's National Cranberry Month? And I'm here to explain to you all of the reasons you will want to add this unique fruit to your diet!
1st – cranberries outrank nearly every fruit and vegetable in disease-fighting antioxidants–including strawberries, spinach, broccoli, red grapes, apples, raspberries, and cherries.
2nd – they are low in sugar and calories – 44 calories and 4 grams of sugar in a cup serving.
Plus cranberries are:
Fat-free
Cholesterol-free
Sodium-free
Still not convinced? OK, here's more.
Cranberries have been shown to promote cardiovascular health by reducing bad cholesterol levels while maintaining or increasing good cholesterol levels
Maintain or improve cardiovascular function
Contain 5 grams of dietary fiber which helps control appetite and maintain blood sugar levels
A great source of Vitamin A, Vitamin C and potassium
Prevent UTI's
Powerful Phytochemicals contained in cranberries may contribute to cancer prevention and stop tumor development
For the most healthful and lowest calorie choice, go for raw cranberries. When dried and sweetened, the sugar content for one cup increases to 71.5 grams, and 339 calories, while one cup of 100% cranberry juice contains 110 calories and 28 grams of sugar.  So, if you're looking to manage weight, stick with the raw fruit.
Here are just a few ways to introduce cranberries into your diet:
Make cranberries muffins, or combine with blueberries for added flavor and antioxidant protection
Pair cranberries into your chicken and pork dishes
Drink 100% fruit juice that includes cranberries
Serve fresh cranberries on top of coconut or almond milk vanilla ice cream for a refreshing change
Sprinkle a few dried cranberries on top of your oatmeal
Don't wait until Thanksgiving comes around! Each week during November, check our recipe section for new ways to prepare this awesome fruit!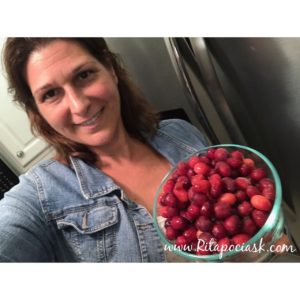 So the next time you head to the grocery store, make your way to the produce section and pick up some of these fantastic delights that taste phenomenal and provide plenty of wellness benefits. You'll fully enjoy how they tantalize your taste buds, and promote better health for your body.
Team RPC provides health and nutritional coaching to help you live well and enjoy your food!  Call (239) 848-0888 today or click the link below and fill out our request form for more information.