From Scott Graison:
So I was told about Happy Hour Hoops, a hula hoop class with drinks standing by.
I thought to myself, "I've been in sports broadcasting for nearly two decades.  I've interviewed hundreds of athletes.  I did the hula hoop as a kid, and was a whiz at it.  This will be silly, and I'll get a couple drinks out of it."
When it was over, I had a new respect for the hoop, and realized age had caught up with me.  Why wasn't this as easy as it was when I was young?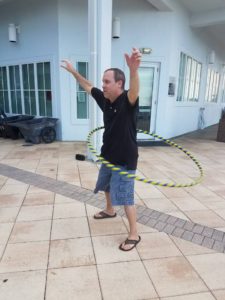 A 30-minute or so workout with great musical accompaniment got my heart going, had my hips spinning, and had my face doused in sweat.  This was a great cardiovascular workout.
It began with a nice warm-up of core stretches, leg stretches, and more.  Then, we were into it.  We didn't just hula hoop.  The instructor had us doing movements during the very fun and entertaining workout session.  The final song we hooped to was Michael Jackson's Thriller, and we were doing some of the famous zombie moves from that iconic music video.
In the end, myself and my fellow participants were clapping, smiling, complimenting each other, and laughing a bit.  I was sweating and feeling positive about engaging in the hula hoop exercise.  I didn't think hooping was silly anymore.  It was enough of a workout that I passed on the mixed drinks, feeling the need to hydrate with water.
You want a great time with a gorgeous waterfront view as the backdrop for a good cardio workout? Then head to Bayfront Bistro in Fort Myers Beach on the last Thursday of each month from 6-8pm.  Happy Hour Hoops runs all the way through the end of the season.