EXCERCICES-DRILLS-REPETITION-DEVELOPMENT
Course Instructors:
Andrew Plesz, PGA Golf Professional TPI Certified GC2, GM2, PC2
Rita Pociask, NASM, ACE Cert. Personal Trainer TPI Certified Golf Fitness Professional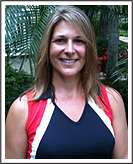 PROGRAM OVERVIEW
The Purpose
The muscle sense program will help you develop an increased awareness of your body's movement patterns throughout the golf swing. This program will help you improve the consistency of your swing.
Program Date/Time
This program meets twice a week on Monday's and Wednesday's from 3:00 to 4:00 pm
How it Works
Muscle sense creates a blend of easy to follow golf drills and pairs them with supporting exercises to "lock in" the
movement pattern.
Your time will be divided between working with Andrew on golf specific drills to develop correct form, while Rita will lock in the movements using golf specific exercises. The course covers balance, posture, core strength, rotation, stabilization, swing consistency and transfer training.
Fall Schedule
Week 1 – Posture
Monday, October 27th
Wednesday, October 29th
Week 2 – Balance
Monday, November 3rd
Wednesday, November 5th
Week 3 – Rotation
Monday, November 10th
Wednesday, November 12th
Week 4 – Target
Monday, November 17th
Wednesday, November 19th
(Class curriculum subject to change)
INVEST IN YOUR GAME
$300.00/per player
(Includes materials)
COMMIT YOUR GAME TO MUSCLE SENSE – SIGN UP NOW!
To sign up contact Andrew via email or call the golf shop at 239-481-5700

Click here to download this flyer in PDF format.